In a previous post dated February 5, 2010, I wrote the following paragraph:
    Last January, I attended a church in McDowell County. That Sunday, they were handing out the Annual Report from the previous year! This report outlined offerings received and expenditures made during 2008. It was a pleasant shock for me as a visitor to be given this report. Why? Because in my 10 years in Greenville and 6 years at WOFF, there was NEVER a report issued to the members as to the amount of offerings received and expenses paid. After attending seminars and services for a total of 16 years at WOFF, I had no idea how much was received and where it went. Did others know? Well, maybe a handful of folks, like the Board may have known. Here is the link – http://religiouscultsinfo.com/?p=277.
 Later in May of 2010, I wrote the following paragraphs in a post…
     Today, as I was leaving church, I was handed a Quarterly Financial Report! Everyone that left through the front door was offered one, even the lady in front of me, who was a first time visitor! Wow, not only annual financial reports from this church, but QUARTERLY! Is this a great idea or what? I was stunned at the openness about the tithes and offerings received and the telling folks how the money was spent. The name of the church is Grace Community Church located outside of Marion, NC…. 
   Can you understand what a shock all of this was to me?  You may be thinking, what is the big deal? Don't all churches do that? At Word of Faith Fellowship (WOFF), there are NO written financial reports handed out at any door to regular members, much less visitors. At least, there were none in the 16 years that I attended services. It was mentioned from the pulpit by Sam Whaley, that they needed $20,000 a week to cover the bills. Jane Whaley took up a $50,000 special offering one time (see link. http://religiouscultsinfo.com/?p=245   ) Things may have changed, but I suspect that news would have come back to me – somehow. The link for the post is here – http://religiouscultsinfo.com/?p=2080
   Today, after the service, I was talking to some other members while still in the sanctuary. The pastor came by handing out the "Year-end Report 2010". By now, my shock from the previous year had moderated and I said "thank you" and took the report. There was not time to look at the report right then, but, I knew I would later in the day. Just now, I viewed the report. This time the format was different and the content had been expanded. The first page contained a letter from the pastor relating demographic data on McDowell County. The statistics conveyed the numbers of folks, their ages, backgrounds and other data within different areas of the county, mostly the area within five miles of the church. The purpose was to inform the congregation that the coming year would include more targeted ways to help people in the immediate area. He had covered this in more detail during the morning service. It was my first time hearing of the new emphasis and seeing it in writing helped bring it into focus.
   From there, the report included personal stories of members who had experienced God's love and provision during the previous year. These stories were alternated with more detailed information on just how the church had helped with or participated in different outreaches during 2010. Some of the statistics relate the growth and direction of the church. New visitors to the church were counted as 359 for the year 2010. The giving was up 5.2% in 2010. 55 new people joined the church during 2010. Many people are connected through email to learn of prayer requests and take turns praying during the services. Two teams from this church went to Haiti to work and minister. One man was a part of a medical team that traveled to Senegal and performed cleft palate surgeries. Different student groups participated in different outreaches in the local community. 90 families were helped with benevolence needs during 2010. 34 people were baptized in 2010. The Lunch Bunch program served 500 children a day, 10 meals a week for 10 weeks for a total of 50,000 meals. Each ministry within the church also had a paragraph summarizing its purpose and direction. The numbers cannot tell the entire story of 2010. I feel sure this is why the personal stories were included.  
    Once I started, it was hard to stop reading as each story was of a real person facing a real need and receiving a real answer from God. There were pictures to give a visual for each story. The before and after pictures of two children who were helped with cleft palate surgeries were amazing. There were also pictures from Haiti and the Lunch Bunch program as well. One page titles "Mission Highlights" listed the different missionaries supported by the church, as well as ministry trips taken by church members, in this country and abroad.  Included in the report, there was a pie graph showing the breakout of the Budget for 2010. The page included figures on contributions to the general fund and to the building fund. Beside the pie graph was a list of categories showing the expenditures.
    As I read the stories, I was struck by the one about a young child in the church who was concerned for her classmates who did not have coats. She was bothered by it and told her Mom who told her to talk to her guidance counselor. The guidance counselor suggested she start a coat drive. She asked to put out a box at church and a few other businesses in town.  Her words tell the next part of the story… "Last year the people gave 183 coats! When all the coats were collected, I stuffed a note in a pocket of each coat with a piece of paper that said, "God helped provide you this coat". And then I put John 3:16 on each piece of paper. I wanted everybody who got one of these coats to know this." That year the coats went to three elementary schools and a women's shelter. At the time of publishing, she had collected 225 coasts as well as blankets, socks, hats and gloves, which would go to five elementary schools, a women's shelter and the Hispanic community center. She continues, "It's great to see what God can do for others. … I feel like this is my mission for now. I know I am just a kid but that doesn't mean I can't ask other people to help. Please, continue to pray for this."      
    For some reason, many reasons, I began to weep as I read this story. The pure innocence and faith that her desire to help others would be supported, not only by the church, but by others in the community, overwhelmed me. No, I am not under the delusion that this church or this pastor is perfect or right on every issue or in every situation. Can any pastor or church be perfect?  I have not been to every service and still consider my support as limited. But, as I read the report and considered the needs being met, I began to weep for the lost years of being involved in a religious system that hid/hides the finances and was/is such a controlling force over its members.
    Lost years? Yes, while in WOFF, there was the requirement to have everything checked out by Jane Whaley. Not only was your time spent working, but there were many hours spent "working for WOFF". On the one hand, WOFF members helped each other – in many areas. On the other, outreach into the community was not the norm. Yes, there was the "prison ministry" and the once a month "nursing home ministry".  Jane did talk about her decisions she made to help someone with money who called the church office. She was the final word on that, also. Yes, WOFF sends flowers to visitations or funerals, and attends baby showers for those outside the church.  But, regular outreach to others outside the church who were hurting or needy WAS NOT the main emphasis of the "ministry" at WOFF. What was the main emphasis? Let's let the people who live in Rutherford County answer that one. What do you see WOFF members doing most? Helping their own or helping others? Are the WOFF softball and basketball teams good or what? That "ministry" sure is visible. I spent many years at WOFF, as time can pass quickly when you are so "busy".
    For certain, I cannot recover the lost years. I did not even view them as "lost" until I left WOFF.  In many areas, I cannot repair the damages of those years, only God can. In many areas, I am not sure I even know the depth of the damage or the results of the lost years. Quite frankly, I feel very helpless in that regard.  But, I can admire and applaud a pastor and his team, who seek to do right by their members and more importantly, do right by their Savior and their God.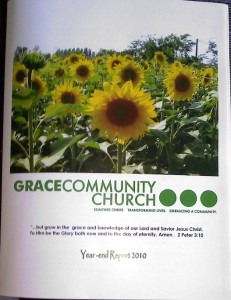 Thank you, for taking time to visit and read this blog. Please, consume the information on this site responsibly. The author is not a licensed mental health professional and encourages those that need professional help to seek it. The intent of the material is to inform and be a resource. Be sure to tell every member that you know at WOFF about this blog. There are readers at WOFF. Comments are invited from all readers, including present or former members. Polls are not scientific and no private information is gathered.
   Look on the right side of any post for the option to subscribe by email for notifications or RSS feeds notifying of new postings. It is a great feature. Also, find more posts by selecting "Categories".
    (Please, take time to read the Terms of Use for this personal blog. As mentioned, the information about WOFF is from my memories and recollections as perfect as that may be or not be. ) Scripture references are Amplified Version unless otherwise noted. (Copyright © 1954, 1958, 1962, 1964, 1965, 1987 by The Lockman Foundation ) This is post number 253.