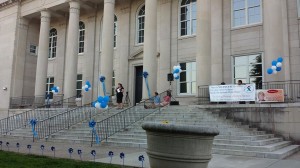 First, allow me to acknowledge those who put in the many hours of preparation for this event. You know who you are and my most heartfelt appreciation goes out to you. Thank you. Also, I want to thank the supporters who showed up early to lend a hand with balloons and pinwheels and bows and everything else. Next, let me thank the speakers who took time from their weekend to tread uncharted waters and take their message to the steps of the courthouse.  There were many unknowns going into the event, but it came together and the outcome was one none had predicted. Oh, there is more… It is the wee hours of Sunday morning, but I feel pressed to post this before things heat-up again on Sunday.  Oh, yes… there will be heat in many places. Let me explain.
Upon arrival early Saturday evening, I found a bee hive of activity with balloons, bows, a banner and a sign posted in memory of Robynn Spence. The weather could not have been better.  We were on the east side of the courthouse in the shade. The breezes were brisk at times, but that kept the pinwheels spinning and temperatures down to some degree. As the last preparations were completed and the speaker system in place; folks began to meander into the courthouse area. Many had expressions of wonder and for sure we hoped each was greeted with a smile as we were all truly glad folks made the choice to come and support the efforts on Saturday.
Then emerging from Main Street, there came about 30 or so members of the Word of Faith Fellowship (WOFF). The mood seemed to tense up some as these visitors were easily spotted. Their demeanor was solemn and they kept among themselves. A few requested the printed itinerary however none approached my table for stickers… One supporter of the cause let me know three of them were wired for sound recording and/or constant communication with command central. I am not sure where that command post was located, but it had to be close. It was clear that the only young WOFF member in a suit was wired for recording as he stood like someone in the Secret Service. He would have to stand for a while! After surveying the group and getting a clearer assessment, I did not see any top WOFF leadership. At first, I confused woman as being Brooke Covington, but I was mistaken. The hairstyle was the same, but I was wrong.
Well, the arrival of such a WOFF contingent put a new potential to the event. Several survivors looked at me with eyebrows raised! If we had only known the events that were to unravel… It is here I must confess I did not retain a program. In light of this, I will fail to mention everyone in the proper order and ask your forgiveness ahead of time. Also, it had been decided a head of time to not mention WOFF by name. That may have drawn in the focus too tight.
Before the program began, the WOFF survivors present formed a circle at the top of the steps and prayed. The audience could not hear the prayer as the music was playing. Matthew Fenner led us in prayer for those who were present to be touched by something said that may help them change. He asked for help to reach those who were there that may not be in agreement with the program. Just gathering together and asking for God's help seemed to settle us down and instill a confidence that though we may not know everything that would happen;  we left that prayer circle believing the event would turn out well.
The first speaker was a pastor who brought focus from the Scripture on child abuse and the warnings against those who do such. From my seated position, I was not able to hear all that was said. But, I felt he was sincere and had much to offer the program. The next speaker was a lady running for clerk of court. I did not hear much of her speech. Another candidate running for sheriff spoke next and extolled his desire to return to law enforcement and serve the people of Rutherford County. He also reminded us to stop for a moment of silence in remembrance of the life of Robynn Spence. Christina Bryant spoke next and began by thanking her family for coming to support her speaking out against child abuse. Five of her family members were present on Saturday. The catch was these five family members were still members of WOFF. Things began to pick-up from there.
As Christina shared events of her life, I don't remember her calling out WOFF by name. She told of her traumas as a little girl and not finding the support she need when she lived in the county. Upon leaving Rutherford County, she became involved in an abusive relationship even though she had not foreseen it. Becoming a mother helped her focus on the importance of a safer environment for her daughter. She left that abusive relationship and as a career choice was trained as a nurse. Her training consisted of detecting sexual abuse, as well as other abuse forms. She began to encourage others to speak out and not allow their abuse to rule their life. About the time she began to close, her two sisters burst out from their position in the crowd with arms flailing and hollered something like- We are NOT here to support you and this is all lies!! The younger sister in a non-coherent way, attempted to repeat what the first had screamed and added-"..too!" From my view point, many in the audience appeared as if they had witnessed a surreal outburst that was totally uncalled for and out of order. And I will have to say- I agreed.
Well, the pace of things only picked-up from there. One of the main organizers promptly escorted the WOFF screamers to talk to the uniformed police on the other side of the courthouse lawn. The screamers were allowed to stay, but only on the side of the lawn where the police could monitor them. Several other WOFFers moved over to that side as a show of support. While the police interviewed the screamers, Jeanna Powell took the microphone. The itinerary listed her to sing Amazing Grace. Well, before she could sing of His grace, she launched into a fiery delivery of several admonitions based in common sense directed at her former classmates from WOFF.  Her impromptu avalanche cascaded down the steps and stunned the members of WOFF. She shamed them top to bottom and many a stoic looking WOFF member had no other choice but to listen. CLASSIC! She burned brighter than the candles!  The WOFF secret service man knew recording this was part of his mission- he stood very still so as not to interrupt the recording. After all, this may be good material for Sunday-right? Who could have planned such a series of events? Well, Christina was not done either. She added some comments and then we heard Jeanna sing of such Amazing Grace.
The candles began to be lit and more music and Matthew added a few comments. Two other folks were allowed to speak and one actually sung a song.  For a closing, Mr. Rape prayed over the whole crowd that any deception would be broken and people would awaken and so on… it was music to the ears on many and fingernails on a chalkboard to a few.
For some closing comments, let me say that several attendees came up to me and thanked us for putting on the event. One had been abused at 6 years old and not shared with anyone for forty years! She felt free to do so now. I heard several went to Jeanna and Christina and thanked them for speaking out and taking a stand. Some expressed their change in beliefs about WOFF. Where there was doubt of misdoings before, there was evidence tonight that things were not right inside of WOFF.
A question to ponder; were the screamers locked-in with Jane to flail their arms and scream at their sister? If so, then it backfired and "someone did not hear God." The observation also was noted that if WOFF members react this way in public, how much more so in private. This outburst in public confirmed the ideas of many of the abuses behind the white doors of WOFF. Despite the WOFF attorneys trying to stop the event, it happened. Really, who could have foreseen the outcome? Sounds like prayers may have been answered by the very people who came to observe, intimidate and record. Caleb, did you get it all?
Oh, I can't close without mentioning it was not all a stern demeanor for the WOFF members. About six of them left the venue by the exit where I was seated. THREE of them looked my way and smiled. They were all nervous smiles, but smiles none the less. It was the – I hope no one sees me even looking at you, smile… I took them and was grateful that there is at least some social grace left in a few of them.
Soon, I hope to have more pictures to add to this post. Please, check back.
More pictures and a review here.. http://rccatalyst.com/
And with that, let us remember:
"It is never too late to wake up and leave and reclaim your life!" Steve Hassan
Thank you, for taking time to visit and read this blog. Please, consume the information on this site responsibly. The author is not a licensed mental health professional and encourages those that need professional help to seek it. The intent of the material is to inform and be a resource. Be sure to tell every member that you know at WOFF about this blog. There are readers at WOFF. Jane told me and Josh confirmed it.
Comments are invited from all readers, including present or former members. Polls are not scientific and no private information is gathered.
Look on the right side of any post for the option to subscribe by email for notifications or RSS feeds notifying of new postings. It is a great feature. Also, find more posts by selecting "Categories".
Guest posts reflect the opinions of the writers. Their opinions do not necessarily reflect the opinions of John Huddle or any other persons affiliated with this blog.
Please, take time to read the Terms of Use for this personal blog. As mentioned, for posts written by John Huddle, any information about WOFF is from his memories and recollections as perfect as that may be or not be.
Scripture references are Amplified Version unless otherwise noted. (Copyright © 1954, 1958, 1962, 1964, 1965, 1987 by The Lockman Foundation ) This is post number 472.