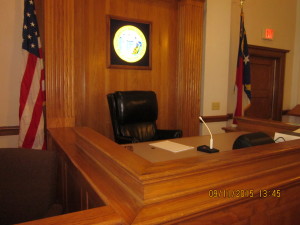 Several events have colored this year with surprise and even shock. Unfortunately, the conclusion of the Matthew Fenner case has not been one of them. We roll our hopes forward to 2017. The next step in the process will be this Thursday, December 8th.
Rccatalyst.com recently reported the notice filed by Assistant District Attorney Garland Byers requesting four of the five defendants to appear and address pre-trial motions. Adam Bartley's attorney, Robert Denton will not be available for the hearing and was not listed in the announcement.
This case stems from events of January 27, 2013 inside the sanctuary of Word of Faith Fellowship (WOFF). Matthew alleges during a session of blasting deliverance prayer he was held against his will and assaulted including an attempt to strangle him. This form of prayer has been a controversial signature practice of WOFF since its inception over thirty years ago.

Five defendants indicted in January 2015 include present church members: Brooke Covington, Justin Covington and Robert Lewis Walker, Jr. Defendants Sarah Anderson and Adam Bartley are now previous members. Pre-trial motions and rulings relieved WOFF attorneys, Joshua Farmer, Mark Morris and any of their associates from representing any of the five defendants. The Order of Disqualification against WOFF attorneys from Judge Marvin Pope issued in August 2015 survived an appeal attempt filed by Farmer which he subsequently withdrew upon Sarah's exit from WOFF in February 2016.
These past few months have been filled with hopes for justice held in check by the ebb and flow of the judicial preference for the Honorable Judge Marvin Pope to hear this case. The Motion for Judge Pope to hear this case until final resolution will be heard Thursday. Additionally, determination to pursue or abandon motions for a Change of Venue and Change of Venire previously filed by Farmer will be reviewed by the attorneys involved to obtain their official stance. A change of venue could move the trial to another county. A change of venire could change the jury pool to another county. Either motion if granted would change the complexion of the case.
The months this case has been on hold have not been without drama. Matthew has survived attempts to depose him in unrelated cases. All have been efforts to intimidate and discourage him. Yet, the wheels of justice are still in place and may begin to roll this coming week. Will there be more surprises before the case is concluded? Expect the unexpected as long as WOFF is involved as the stakes are high. In reality, it is not just the five defendants on trial, but the signature practice of blasting prayer along with the leader and founder of WOFF- Jane Whaley have been and will continue to be under the microscope. Will the public view a demonstration of loud prayer before this is over? We can only hope. Any volunteers to help in a demonstration of WOFF-deliverance?
Follow this blog on Twitter- @religiouscults and
Facebook – https://www.facebook.com/johnhuddleauthor
Thank you, for taking time to visit and read this blog. Please, consume the information on this site responsibly. The author is not a licensed mental health professional and encourages those that need professional help to seek it. The intent of the material is to inform and be a resource. Be sure to tell every member that you know at WOFF about this blog. There are readers at WOFF. Jane told me and Josh confirmed it.
Comments are invited from all readers, including present or former members. Polls are not scientific and no private information is gathered.
Look on the right side of any post for the option to subscribe by email for notifications or RSS feeds notifying of new postings. It is a great feature. Also, find more posts by selecting "Categories".
Guest posts reflect the opinions of the writers. Their opinions do not necessarily reflect the opinions of John Huddle or any other persons affiliated with this blog.
Please, take time to read the Terms of Use for this personal blog. As mentioned, for posts written by John Huddle, any information about WOFF is from his memories and recollections as perfect as that may be or not be.
Scripture references are Amplified Version unless otherwise noted. (Copyright © 1954, 1958, 1962, 1964, 1965, 1987 by The Lockman Foundation ) This is post number 580.