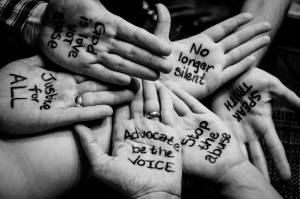 During 2017, many new people became aware of the ongoing, complex and often surreal drama which surrounds Word of Faith Fellowship (WOFF). This is a good reason to recap several important events which happened that brought much more attention to the often secretive and closed "church" in Spindale NC.
Starting February 27th, the Associated Press released the first of several articles which detailed abuses inside of WOFF. "Ex-congregants reveal years of ungodly abuse…" These accounts came from 43 survivors who lived inside WOFF and subsequently left at different times. The testimonials covered by this release and the subsequent articles throughout the year, resulted in a proverbial ongoing "indictment hearing" for the WOFF leadership as well as several local and State officials. The AP's site (here) serves as the central hub for the many articles, videos and audio files unveiled after almost two years of investigation. The information gleaned from survivor accounts, court documents, recordings and intense research served to alert government officials and thus open several investigations into possible abuses, instances of fraud and wrong doings by WOFF in the United States and Brazil.
March 6th – "Ex-sect members tell AP: Prosecutors obstructed abuse cases"- was the next release which told of meetings inside Jane Whaley's office where two members who served as Assistant District Attorneys in Burke County were involved in coaching members how to answer questions posed by various investigators. Also, present in these sessions was a church member who served as a social worker in Cleveland County. Not long after the AP release, Frank Webster and Chris Back were no longer employed as Assistant District Attorneys and Lori Cornelius decided to leave her position as a social worker for Cleveland County.
March11th – a Survivor's Forum was held at the Spindale House. It was standing room only as several survivors told of their time inside WOFF. Several media outlets covered the event. The live stream recording received thousands of views on Facebook.
June 6th- A mistrial was declared in the State vs. Brooke Covington after the jury foreman introduced unauthorized documents into the jury room. The documents were judged as "tainting" any outcome. The jury foreman, Perry Slade was fined $500 and spent 30 days in jail. Mrs. Covington was the first of five WOFF defendants tried in the long running Matthew Fenner case. Judge Gavenus issued a gag order simultaneously with the mistrial. The gag order has been modified to allow an investigation by State officials into the events. As of March 31, 2018, the gag order will expire.
Later, a motion filed by Judge Marvin Pope moved four trials to Buncombe County. Also, in a more recent Motion filed by District Attorney Ted Bell, he requested an indefinite continuance. This Motion has yet to be heard. The reason for the delay includes the ongoing investigations by several State and Federal agencies into WOFF. (link here)
June 26th- AP released an article documenting local officials in Rutherford County delaying their initial investigation of Matthew Fenner's abuse claims. Secret recordings of then District Attorney Brad Greenway and Sheriff Chris Francis document the confusion and delay.
July 24th, The AP released "They kept us as slaves…" an account of ex-members from Brazil telling of a "human pipeline" of young folks who labored in church-leaders homes and church-member owned companies for little to no pay. This account attracted the interest of a large news outlet in Brazil- Globo.com. This news outlet sent reporters to North Carolina to find out more. The resulting news release added fuel to the fire already started by the Brazilian and American AP. Later news reports told that officials in Brazil were taking the allegations seriously and were in touch with the U.S. Department of Justice.
August 21st- Congressman Patrick McHenry held a town hall meeting at Isothermal Community College. In answer to questions about his knowledge of the ongoing investigations into WOFF; he claimed to be ONLY able to make speeches and introduce legislation. He said he was a private citizen and not briefed about the situation. All of these comments were made in conjunction with reports of how he strives to help his constituents who seek help from several governmental agencies. He did not see the obvious conflict in his statements because his political life is based on "helping" those who vote for him. It was also noted his warm and personal greetings to each WOFF member who approached him after the meeting. (post)
September 25th- "…Church stoked tithing with unemployment scam…" As if the surreal religious subculture could hold no more secrets, the AP reported accounts of former members outlining what the leader, Jane Whaley, called "God's plan." The church-member owned businesses were told by the person claiming to be the voice of God, to file fraudulent unemployment claims in order for the tithes to continue and the businesses to survive. This caused many to shake their head in disbelief.
November 13th- During the early morning hours the AP released two related stories. One titled: "Ex-members say church uses power, lies to keep grip on kids." The article outlined the process used by a long-time WOFF member serving as a county court clerk, Laura Bridges to bypass the foster care system and obtain custody of children from three single mothers. This article also included the Shana Muse story. It was a long emotional read, but extremely valid to understanding the WOFF saga.
Also, on November 13th,"Investigators face big hurdles in church child abuse cases..." a story was released outlining the hurdles to prudent child protection which local social workers face when investigating abuse claims involving WOFF children. The Compromised Settlement which was a result of the 2003 civil action filed by WOFF against the Rutherford County Department of Social Services (RCDSS) and three employees has served as a barrier since 2005. This story and the resulting public outcry resulted in calls for the resignation of RCDSS Director John Carroll.
Shortly after this article dropped, I sent an email to the North Carolina Department of Health and Human Services (NC DHHS) as they provide oversight for local DSSs. That very afternoon, I received a call from Assistant Secretary of the NC DHHS, Michael Becketts. He requested a face to face meeting to hear what I thought was going on in Rutherford County. This meeting was held on December 18th. In a closed door session with Mr. Becketts and Assistant General Counsel Julie Cronin, I expressed my concerns. They both listened and also expressed their firm position that the NC DHHS is not bound by the Compromised Settlement. Previous to this meeting, a new relationship protocol was put in place for RCDSS as they review complaints of abuse or neglect involving WOFF children. The NC DHHS will now review information and case files of all complaints of abuse involving WOFF children, those acted upon locally and those that are not.
December 14th- The AP released an article outlining the story of former WOFF-member- Jamey Anderson. "No one saved us…" Jamey told of his time on church discipline and the horrors that came with it. His struggles after leaving WOFF were punctuated by recent false trespassing charges filed by his brother who remained a WOFF member. The charges were dismissed, but not before Jamey suffered reputational damage. It was a sad comment on the legal process in Rutherford County.
This story was the appropriate ending to the year-long "indictment hearing" provided by the investigative team of the AP.
December 20th- The RCDSS at the monthly Board meeting heard from some folks during the public comment time who were not happy with John Carroll's decisions. Also, several WOFF members crooned his praises. If he wore boots that day, I am sure they were shiny when he left.
During 2017, Spindale's small town sleepy atmosphere was replaced with an ongoing intense cloud of disbelief and shock. Many local residents became aware for the first time of the abuses, misdeeds, and legal shenanigans which have festered and grown pervasive behind the lily white doors of the WOFF sanctuary. The sheen doesn't always equal clean. The shine doesn't mean all is fine.
In response to the growing information provided by the AP, Rccatalyst.com, WSPA, WSOC and other media outlets, WOFF teamed up with their radio pal – WCAB 590AM. Jim Bishop and WCAB have run WOFF member-owned business commercials for a while. This radio station has also served as a platform for WOFF-member Gilbert Carmona's tax show.
WOFF pays for air time 8:30AM to 9:00AM – Monday, Wednesday and Friday. This started in December and except for this past Monday- the show has been live-stream on the WCAB YouTube channel. The shows are archived.
Let me take this opportunity to thank Karel Reynolds, Mark Morris, my ex-wife and my son for being so kind to review my book, "Locked in." I know that does not mean you read it- freely. Nonetheless, you did tell the radio audience how much you think I "lied" in my book. This will only serve to make regular folks curious to read for themselves. I appreciate you getting the word out to the good folks who listen to radio. That is one media source I had not considered. Thank you!
And yet, the daily drama/trauma of WOFF-life continues…
What does 2018 hold as a follow-up?
Follow this blog on Twitter- @religiouscults
Facebook – https://www.facebook.com/johnhuddleauthor
Thank you, for taking time to visit and read this blog. Please, consume the information on this site responsibly. The author is not a licensed mental health professional and encourages those that need professional help to seek it. The intent of the material is to inform and be a resource. Be sure to tell every member that you know at WOFF about this blog. There are readers at WOFF. Jane told me and Josh confirmed it.
Comments are invited from all readers, including present or former members. Polls are not scientific and no private information is gathered.
Look on the right side of any post for the option to subscribe by email for notifications or RSS feeds notifying of new postings. It is a great feature. Also, find more posts by selecting "Categories".
Guest posts reflect the opinions of the writers. Their opinions do not necessarily reflect the opinions of John Huddle or any other persons affiliated with this blog.
Please, take time to read the Terms of Use for this personal blog. As mentioned, for posts written by John Huddle, any information about WOFF is from his memories and recollections as perfect as that may be or not be.
Scripture references are Amplified Version unless otherwise noted.
(Copyright © 1954, 1958, 1962, 1964, 1965, 1987 by The Lockman Foundation ) This is post number 625.