This is the link that shows the full list of candidates seeking the position of Clerk of Court for Rutherford County.
     http://www.rutherfordcountync.gov/dept/board_of_elections/Candidates_2010.php
     The subject of this post is not new information to those closely involved with WOFF or with the Rutherford County courthouse. However, upon learning of Ramona Hall's name being on the Democrat primary ballot; it sparked questions for me. At this time, I do not feel qualified to comment on Ramona's job performance or knowledge that the position requires on a day to day basis. I suspect if there were issues in that area her tenure working in the Clerk's office would have been shortened.
     All that being said, other questions must be posed. Having the total responsibility of the Clerk of Court's office would be a new challenge for Ramona Hall, as for anyone who takes the position for the first time. She would be making decisions in many areas of interest to the citizens of Rutherford County. (See this link for a brief list of the duties of a Clerk of Court in NC… http://www.nccourts.org/Courts/OCO/Clerk/Default.asp ) I was surprised to learn the duties of the Clerk of Court. The Clerk has many of the same powers of a magistrate. These duties include being able to issue arrest warrants and search warrants as well as being the judge of probate.
     The main question that must be posed is this: In times of deep distress or conflict in making professional decisions would Ramona Hall use her spiritual advisor – Jane Whaley for a source of counsel? I cannot say for sure. However, from what has been spoken by Ramona in other stressful personal times, she did ask Jane for counsel. What else could be expected for members of WOFF? She would not be "submitted to authority" if she did not seek counsel of some sorts from Jane Whaley and/or others in leadership.  The decision to be placed on the ballot was not done in haste without counsel, I feel certain.  The voters of Rutherford County must feel comfortable with the possibilities.
     In reality, every candidate may have a person or persons that they seek counsel from in making professional decisions. I do not know about others. But, I feel comfortable posing the question in this particular case. It is food for thought for the voters of Rutherford County. I will not be voting in the elections for Rutherford County.   
     The website listed on the sign below has a picture of several folks standing with Ramona and her family. Four of these folks are members of WOFF. No, I am not surprised. Again, the voters of Rutherford County must feel comfortable with all the possibilities should Ramona's campaign allow her to obtain a new job.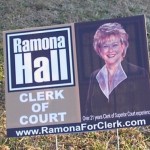 Look on the right side of any post for the option to subscribe by email for notifications or RSS feeds notifying of new postings. It is a great feature.
      (Please, take time to read the Terms of Use for this personal blog. As mentioned, the information about WOFF is from my memories and recollections as perfect as that may be or not be. )