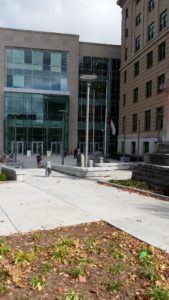 Following the predictably unpredictable theme, on Wednesday of this week, Brian Oglesby filed a Motion to Withdraw as counsel for Adam Bartley. Attorney Thomas Amburgey filed a Notice of Appearance to represent Bartley and a Motion for Continuance. Judge Marvin Pope scheduled a hearing on the Motion for Continuance for Friday at 2:00PM, in the Buncombe County courtroom on the ninth floor.
This development came less than two weeks before the trial for Adam Bartley was set to start on October 23rd. The Rccatalyst.com reported this update on Thursday with several documents provided in the article to show the steps leading up to Friday's hearing.
These proceedings stem from incidents on January 27, 2013 in the Word of Faith Fellowship (WOFF) sanctuary in which Matthew Fenner alleges he was assaulted, held against his will and strangled. The indictments handed down in January 2015 were against Brooke M. Covington, Sarah Anderson, Justin Covington, Robert Lewis Walker, Jr. and Adam Bartley. After many pre-trial motions which included a disqualification of Farmer and Morris as counsel for any of the defendants, Brooke Covington's trial commenced earlier this year. Unauthorized documents introduced into the jury room by the jury foreman caused Judge Gavenus to declare a mistrial followed by a gag order on those involved in that trial. The jury foreman also spent 30 days in jail and was fined $500.00. The Associated Press filed suit to remove the gag order. To date, the gag order remains in place and blocking investigators from performing any inquiries into the jury foreman's actions.

Friday was not my first trip to the Buncombe County courthouse. However, the last trip was so long ago, it felt like the first time. I found a metered parking place near the front of the courthouse and deposited change to buy just a little over an hour. The maximum you could buy was two hours. (after the hearing, I noticed a parking garage across the street which may be an option for next time. ) Though I parked at the front of the courthouse, the entrance is around to the left side of the building. Immediately upon entering, I passed through security and asked directions to the ninth floor. Walking through a couple of different hallways, I found the golden elevators. During my stroll through to the elevators, I found it odd to not see anyone I recognized. Was the hearing postponed?
The elevator doors opened just as the doors to the ninth floor courtroom were opened by a uniformed officer. The attorney's involved walked in ahead of me to take their positions. Adam Bartley promptly took his seat next to his attorney. This court house allowed cell phones; this allowed the two uniformed officers time to play on their phone as we all waited for the Judge to enter the room. I double checked mine to verify it was off. The courtroom had a very small gallery area compared to other courtrooms. There were framed United States and North Carolina flags hanging behind the judge's chair as well as one of each flag on a pole behind the judge's elevated podium. The court workers gathered correct spellings of all of the involved parties in a very relaxed atmosphere. I moved up closer so I could see the clock while taking notes. Oddly, no WOFF leadership were in court to support Bartley, not even DeWitt Prince.
Judge Pope entered the courtroom shortly after the top of the hour. After we all were seated, he addressed Adam Bartley's attorney, Mr. Amburgey for him to begin his argument. Attorney Amburgey began by outlining his initial contact with Adam Bartley and his then attorney Brian Oglesby. Mr. Oglesby was appointed as a public defender earlier this year after Mr. Bartley was declared an indigent. Amburgey outlined in detail his efforts over this past week to contact District Attorney Ted Bell's office in order to start a dialogue about the case. His comments noted Mr. Oglesby was not ready for trial and that Mr. Bartley had a right to choose his counsel. Once he had access to the discovery, he would be ready "as soon as possible."
Judge Pope then turned to Assistant District Attorney Garland Byers for his reply. Byers pointed out this would be Bartley's fifth attorney and after several discussions with Oglesby, he believed Oglesby was ready for trial. Byers said the right to counsel is a "qualified right", not "an absolute right", adding the State of North Carolina makes this very clear. He went on to say he would abide by the court's decision reminding the Judge this was the oldest case on his list, five years this coming January since the incident occurred.
Judge Pope turned to Amburgey asking when he might be ready to go to trial. "I have no real idea,"he replied, adding – six weeks was ambitious, possibly (ready) by the end of the year. Pope clarified some matters with Byers and threw out December 4th as a possible date to begin. Byers pointed out he had a pending murder trial set for December 11th. December dates did not seem like a good fit for the case's already set for his office.
Judge Pope suggested January 2, 2018 to which both attorneys agreed. Adam Bartley's trial will start the first Tuesday of 2018. I saw no discernable reaction positive or negative from Bartley over this entire series of events.
Next, there was some discussion about which trial would called for October 23rd. Byers assured the Judge that Attorney Cates representing Robert Lewis Walker, Jr. was ready and this seemed to please the Judge. He was glad that this case could move forward this month.
Judge Marvin Pope earlier filed a Change of Venue for four of the trials, all except Brooke Covington's. Today's hearing could be the first of many sessions in Buncombe County in order for these cases to be tried. It Is not clear if today's courtroom will serve for the rest of the trials, if so, the gallery space will be limited.
Follow this blog on Twitter- @religiouscults
Facebook – https://www.facebook.com/johnhuddleauthor
Thank you, for taking time to visit and read this blog. Please, consume the information on this site responsibly. The author is not a licensed mental health professional and encourages those that need professional help to seek it. The intent of the material is to inform and be a resource. Be sure to tell every member that you know at WOFF about this blog. There are readers at WOFF. Jane told me and Josh confirmed it.
Comments are invited from all readers, including present or former members. Polls are not scientific and no private information is gathered.
Look on the right side of any post for the option to subscribe by email for notifications or RSS feeds notifying of new postings. It is a great feature. Also, find more posts by selecting "Categories".
Guest posts reflect the opinions of the writers. Their opinions do not necessarily reflect the opinions of John Huddle or any other persons affiliated with this blog.
Please, take time to read the Terms of Use for this personal blog. As mentioned, for posts written by John Huddle, any information about WOFF is from his memories and recollections as perfect as that may be or not be.
Scripture references are Amplified Version unless otherwise noted.
(Copyright © 1954, 1958, 1962, 1964, 1965, 1987 by The Lockman Foundation ) This is post number 618.