The public is invited to attend this forum beginning at 6:00PM. No admission charged. Information will be presented on mind control and various factors concerning dangerous groups. Panel members consist of survivors from a controlling group. They will be answering questions about living within a high-demand faith group. Handouts and information sheets will be available to attendees. This event will allow an avenue for the questions many have had to be answered by those who are willing to share their experiences. Space is limited.
For questions, you may email John Huddle- author@religiouscultsinfo.com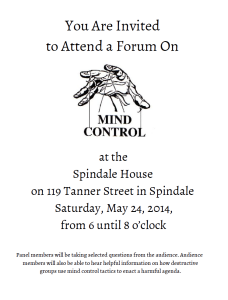 "There may be times when we are powerless to prevent injustice, but there must never be a time when we fail to protest."
Elie Wiesel

Thank you, for taking time to visit and read this blog. Please, consume the information on this site responsibly. The author is not a licensed mental health professional and encourages those that need professional help to seek it. The intent of the material is to inform and be a resource. Be sure to tell every member that you know at WOFF about this blog. There are readers at WOFF. Jane told me and Josh confirmed it.
Comments are invited from all readers, including present or former members. Polls are not scientific and no private information is gathered.
Look on the right side of any post for the option to subscribe by email for notifications or RSS feeds notifying of new postings. It is a great feature. Also, find more posts by selecting "Categories".
Guest posts reflect the opinions of the writers. Their opinions do not necessarily reflect the opinions of John Huddle or any other persons affiliated with this blog.
Please, take time to read the Terms of Use for this personal blog. As mentioned, for posts written by John Huddle, any information about WOFF is from his memories and recollections as perfect as that may be or not be.
Scripture references are Amplified Version unless otherwise noted. (Copyright © 1954, 1958, 1962, 1964, 1965, 1987 by The Lockman Foundation ) This is post number 479.