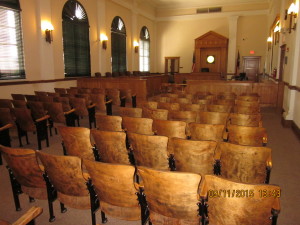 Tuesday morning began with a buzz of expectancy. Conversations were filled with exchanges of opinions and speculations about what the next few hours held. Could this be the day that Brooke Covington of the Word of Faith fellowship (WOFF) is convicted of simple assault and/or second-degree kidnapping? Or will the huge grin from last week return to her face as she is found not guilty on both counts?
Will Matthew Fenner return to his life in college with some satisfaction knowing the legal system in North Carolina has meted out justice in response to the five indictments surrounding the events of January 27, 2013 occurring inside the sanctuary of WOFF? Brooke Covington is the first trial as four others; Sarah Anderson, Justin Covington, Robert Lewis Walker, Jr. and Adam Bartley were also charged and await their fate. Who could have predicted the events that would unfold?
The jury assembled at 9:00AM and returned to deliberations shortly thereafter. When I entered to courtroom, the atmosphere was different from days previous. The witness sequestration was over and more people were in the room including media, supporters of Matthew and a crowd from WOFF. The number of media representatives was larger than days past. I took a seat and began speaking with an investigative reporter from another city.
Soon, I learned of an incident from earlier in the morning. A young man had made some negative comments to a jury member in the hallway, and after the bailiff consulted with the Judge, the man was arrested. The man was to be charged with harassment of a juror and Judge Gavenus had requested the young man appear before him for arraignment and bond. This was only a foretaste of things to come.
Continue reading MISTRIAL: The wounds are still open… →