On a recent trip through the town of Ruth, I drove past Gilbert Carmona's office. He has had an office there for a while and I did not think it strange to see his van there at such a late hour. What I did notice was a white vinyl sign. As I drove closer I read "Gilbert Talk Taxes" WCAB Sat. 9:00AM." Wow! Gilbert is going to be on the radio! Why is that such a big deal? Because he is a member of Word of Faith Fellowship (WOFF) and they are not supposed to EVEN LISTEN to the radio! Well, how can this be true? I needed to know more. So, I emailed WCAB to verify the program and the time. Sure enough Lou Gilliam sent me back a reply saying the show will be on Saturday mornings 9:00AM to 9:30AM. And get this… it is supposed to be streaming!
Lou even wrote, "Yes we will stream the show. If you do not hear it please call the station. Sometimes the streamer will flip off by itself and unless we are staring at it we miss it. We are on Northland Cable and if the cable is interrupted in any way there goes the streamer. So please call if you do not hear it."
 Well, what do you say about that?Have the rules changed at WOFF? Or does Gilbert "have ahold of God at such a high level he can be trusted to go on the radio and not sin?" Besides Ray Farmer and Christie, his wife, who will be allowed to listen to him and guard him? If there is a call screener, and they are not a member of WOFF, how will they know who has ahold of Jesus and can talk to Gilbert and who does not? Will the commercials during those 30 minutes be other WOFF-member owned companies? Such questions intrigue me.
The opportunity to hear Gilbert on the radio has had me thinking about him and our relationship during my time in WOFF. He was one of the first people I met as I started working for the now defunct Two Mile Properties (TMP) owned by Josh Farmer. Gilbert managed one apartment complex in Gaffney, SC and I managed other one owned by TMP. We would take lunch together sometimes and walk at Limestone College. He was fun to talk to and well, every once in a while we would give to foolishness. Okay, there, I admit it. He always had fun stories to tell as we learned that we grew up watching with some of the same television shows and listening to the same comedians. I admired his bilingual skills and how he seemed to be able to relate to his renters and went out of his way to help some of them.
Somewhere along in that time frame he and his wife would help me and my family with the yard work we needed to do on the house we still owned in Greenville, SC. In October of 2002, we had moved to live with Jeff and Sarah Boyle and not sold our house yet. Gilbert helped us by taking a TMP mower to Greenville on Saturdays and cutting the grass. It did not take long and of course after that we had to all go out and eat. There were times when Gilbert would have us over to his house in for dinner after he got married and moved out of Rusty and Lynn Millwood's house. He can cook up a storm! During his stay at WOFF, he has worked for Liz Rose at the Café at the Mall and maybe even her other place in Tryon. (I am not 100% sure on that one…)
The years run together, but after Hurricane Katrina, Gilbert spent time in Mississippi working for Belfor® as a project manager. He has many skills in construction including laying tile. I think he even worked for Carlson Farmer before TMP laying tile. If my memory serves me right, he got his degree at Limestone College. I feel sure that was tough to manage while working full time. He also owns another company called "INTERNATIONAL SURFACE FINISHING ACADEMY, LLC"  I have no idea what he does with that company.
So, for certain Gilbert is a man of many talents. He has had his times of struggling within WOFF, though. I have written about it here before, but, one time he got up in a service and told Deloris to "Shut-up!" That was not acceptable behavior in Jane's church. But, he "got prayer" and all was forgiven. He got up one time in a service and expressed his concern about Jane's BIG DOG being around children. That was a sincere moment. All of these thoughts brought me to the last time I saw Gilbert up close. It was August of 2010 when I posted this sign in Forrest City.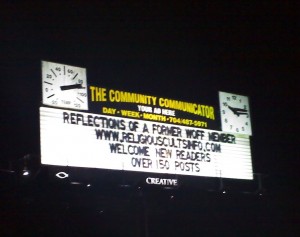 At some point while the sign was up, I pulled into the gas station by Wal-Mart in Forest City. It may have been a Friday night. Low and behold, Christie Carmona started to pull in to the pump next to me. I thought for a moment I would have a chance to say –Hi! Then, a few feet away in his van, Gilbert yelled to Christie- Hey… Hey! He got her attention and motioned for her to get away for the pump! He acted like the pump may blow up at any moment….!!! I saw the look on his face. It was full of terror! Then I understood the pump was not about to blow. Why? He was telling her to get away for me! My presence was causing him great distress. Why was that? We had been such friends in WOFF. Did he not like my sign? Do you think he had been warned to stay away from me? All of those good times we had laughing and talking and working together… down the tubes. For now, I was "an enemy." Why? At that point, all I was doing was telling my experiences in the group he seemed to love. Why would telling what happened to me cause him such distress? Much of the same things happened to him.
He even used the same sign a few months ago…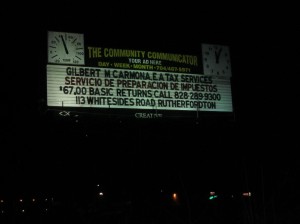 No, it goes much deeper than the fact he did not want to be around me. I had left and done what he tried to do several times during my time there. He has had major struggles at times with WOFF and maybe even Jane… I don't know exactly. But, for now he is "locked-in" and will be using WCAB as a recruiting tool not only for his business, but his voice will be a recruiting tool for Jane Whaley and WOFF. That is why Jane is letting him have a radio show. It would thrill her to no end to have some of his new customers become regular giving members of WOFF. 
But, oh, they would no longer be able to listen to the radio, or would they? What a conundrum that would be. You got here by listening to the radio, but, now it is evil and you can't listen to it any more. Hmmmm… We will list and expound upon all of the WOFF recruiting tools I know about in future posts. There are some new ones Jane is using that were not used when I was inside. And I am sure there are new ones I have yet to learn about.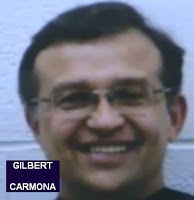 And with that, let us remember:
"It is never too late to wake up and leave and reclaim your life!" Steve Hassan
Thank you, for taking time to visit and read this blog. Please, consume the information on this site responsibly. The author is not a licensed mental health professional and encourages those that need professional help to seek it. The intent of the material is to inform and be a resource. Be sure to tell every member that you know at WOFF about this blog. There are readers at WOFF. Jane told me.
Comments are invited from all readers, including present or former members. Polls are not scientific and no private information is gathered.
Look on the right side of any post for the option to subscribe by email for notifications or RSS feeds notifying of new postings. It is a great feature. Also, find more posts by selecting "Categories".
Guest posts reflect the opinions of the writers. Their opinions do not necessarily reflect the opinions of John Huddle or any other persons affiliated with this blog.
Please, take time to read the Terms of Use for this personal blog. As mentioned, for posts written by John Huddle, any information about WOFF is from his memories and recollections as perfect as that may be or not be.
Scripture references are Amplified Version unless otherwise noted. (Copyright © 1954, 1958, 1962, 1964, 1965, 1987 by The Lockman Foundation ) This is post number 455.