The Survivors Community Forum held yesterday was well attended and covered by several media outlets. My heartfelt thanks go out to so many people who helped in any way with the planning, set-up, providing support during the meeting and cleaning up afterwards. It took a team of willing volunteers to bring this message to the citizens who chose to spend their afternoon with us. I appreciate all the ex-members who attended whether they spoke publically or not. We were there for each other and I hope having the open forum helped each one in some way.
Thank you, to the present members of Word of Faith Fellowship (WOFF) who came and listened to what for them must have been some new information and a fresh point of view. I regret we had to end the session at 4:00PM, however that was the block of time reserved. In future events, if at all possible, we hope for more open discourse and civil interchange between former and present members.
And to WOFF member Benjamin McGee; it was pointed out to me that I appeared rude in my response to you at your request to speak at the end of the session. That was not my intention and I hope you will understand I did not recognize you nor was I aiming any malice at you personally. You are welcome to call me anytime to discuss your concerns or questions. (828) 289-7923
The meeting was also attended by some of Spindale's finest. We appreciate so much the Spindale Police who served in a very supportive and non-bias fashion. They made it clear to me from the start; their goal was to assure order. Thank you- very much.
All of the encouraging remarks and show of support from those who attended did not go unnoticed. The kind words did much to strengthen not only me, but all the other ex-members. Despite the WOFF-spin, I believe the event was a success and plans for future meetings along the same lines are being discussed.
There is a live feed replay on Citizens Against Corruption and Abuse Facebook page. One report from WLOS 13. Another report – Rccatalyst.com report The AP report includes Saturday's event. Thank you to all media sources who spent time covering this event.
The next speaking event for me is this Thursday.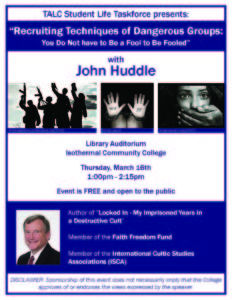 Thursday- March 16th at Isothermal Community College – Library Auditorium 1:00PM
"Recruiting Techniques of Dangerous Groups- You don't have to be a fool to be fooled"
Continue reading Saturday's Forum and Upcoming Events →